Hyundai Ioniq Is a True Prius Battler but It's Also Just a Great Car
Would you agree if we told you the Toyota Prius hasn't seen a worthy competitor in its decade of existence? There have been directly-aimed competitors such as the Honda Insight but nothing has really made a dent in the Prius's "efficient hatch-sedan" market. It's hard to say why that is. Maybe it's because drivers who want gas savings and "green" efficiency gravitate to the Prius, the first successful hybrid. That raises the question "when will eco cars be considered normal or considered as worthy substitutes for gasoline and diesel autos?" Well, maybe the Hyundai Ioniq is a step towards the answer.
The Insight was too much like the Prius, perhaps. Other hybrids were too similar as well. Take the Chevy Volt. Yes, it has a long battery-only range and its gas tank is really just to extend your range but what normal driver knows that? Who cares? If you're not in the industry, the Volt is just another hybrid, futuristic-looking hatch-sedan creation. In the case of the Ioniq, a typical driver might be able to deduce that it's a hybrid or EV because of it's name and because of its streamlined look. It doesn't scream "I'm an Eco Car!!," though. It doesn't have solar panels, a weird double grill or a tiny shifter knob. It just doesn't have the look and feel that have become associated with hybrids and electronic vehicles.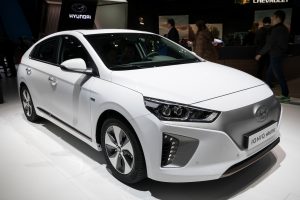 On the other hand, plenty of hybrids look a lot like their gasoline-powered versions. For example, hybrid Honda Civics look a lot like every other Civic. The difference is that nobody thinks of Civic when they want a hybrid. The Ioniq may be the appropriate middle ground between blatantly "green" (or money-saving or battery-powered or efficient; however you want to put it) and everything else. The Ioniq isn't screaming "buy me to save the planet" but it is just as efficient as the Prius; possibly even a little more efficient. It's also not a hybrid Elantra. It has its own personality.
Yes, the Ioniq might be a step towards normalizing hybrid vehicles and EVs but how does it actually compete with the Prius? Does it hold its own as an eco (ecological and economical) vehicle while not being pigeonholed into that category?
| | | |
| --- | --- | --- |
| | Ioniq | Prius |
| Engine | 1.6L GDI hybrid | 1.6L hybrid |
| Fuel Efficiency (EPA) | 59/57/58 | 59/53/56 |
| Transmission | Dual clutch six-speed | CVT |
| Motor Power | 43 HP | 71 HP |
| Battery+ Engine Power | 139 HP | 121 HP |
| Battery Warranty | Lifetime | 15 yr / 150K Miles |
| MSRP | $23,035 | $24,360 |
Why, yes. On paper, certainly. Give it a test drive to find out for sure.
In the market for a new car? Get lease quotes from all your local dealers for free, right here.