First Chinese Vehicles Coming to US for Sale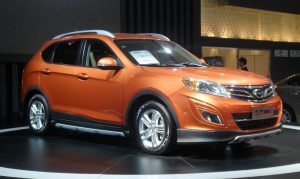 As little as a decade ago, car experts laughed at the idea of China producing a car that would compete with makes like Honda and Ford. Those days are over. China is now a key manufacturing partner for many auto brands and is home to several dozen native vehicle brands, some of which have been around since the 80s or even longer. Finally, a Chinese company is planning to export to the US.
Trumpchi is a Chinese auto brand that las been putting logos on sedans and SUVs since 2010. It is owned by GAC, a company that established a joint venture with Fiat in 2009. In 2017, 3 Trumpchi vehicles were introduced at the Detroit auto show. All were the kind that could help satisfy demand in the US. Now, GAC says it's about time to build an R&D facility in North America to build upon its already-impressive reliability and general standards.
Sources such as Forbes and Autoblog say Trumpchi cars could be available to Americans as early as 2018. These are the models that are most likely to make the cut for the first market test:
GE3
An electric vehicle (EV) could be one of the first chinese cars in the US because it may be more affordable than any other EV on the market and because it won't have to meet North America's stringent emissions standards. GAC says it can probably beat the lowest prices in each class by as much as 30%. That could be a huge advantage. The GE3 hits the Chinese market this summer.
GS7
It's a five-seat crossover that could compete with the Mazda CX-5 or Ford Edge. The GS7's turbocharged 4-cylinder engine and six-speed automatic transmission were designed by GAC, says the company, and produces 198 horsepower. The vehicle is AWD and has settings for sand, trail, snow and normal terrain. A potential problem is the GS7's weight, which nearly reaches two tons. That's a lot of pounds for a 200-hp engine to push around. The Ford Edge starts at 245 hp, as a comparison.
EnSpirit
The EnSpirit is a plug-in hybrid that looks like an amalgamation of several Honda and and Kia SUVs. It has a cloth roof that can be opened for extra ventilation and sunlight. Although Trumpchi hasn't planned to produce this one on a mass scale, it could be a strong competitor to the Hyundai Santa Fe Hybrid and similar vehicles. We're not sure the cloth roof should be included standard, though.
MotorTrend estimates a $25,000 price tag for the GS7. The prices that will come with the other two vehicles are uncertain.
Free, no-obligation quotes are at your fingertips. Find the best lease deal the easy way.
​