Are Fiat 500e Deals the Best Car Deals Available?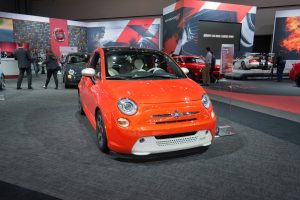 The 500e looks a lot like the 500X and other non-electric versions of this subcompact vehicle. It's got a couple of upgrades for better aerodynamics, including a lower front fascia and a rear spoiler, though. It actually looks more like a sport spec than an EV version.
The 500e was affordable when it went on the market to lessees a few years ago. Now, though, it's really affordable. If you search a little bit, you'll find 3-year-old 500e's with around 30,000 miles on them listed for around $5,000. Now, sure the Fiat brand isn't luxury and it doesn't have the best reliability associated with it but $5,000 for any new-ish car is a really good deal.
There is one problem, though. The 500e has only been available on the west coast. If you're on the Atlantic side, you might not find one nearby. But hey, there's always an opportunity for a road trip!
Here's what you get for that $5,000 or so:
87 miles per charge
100-volt outlet charge in 24 hours (standard A/C outlet)
240-volt charge in 4 hours (washer/dryer outlet)
8-year warranty on the battery
No half-hour charge (sorry)
25ft3 of interior space with rear seats folded
147 lb-ft of torque
111 hp
70 mph top speed
As you can see, it's a fairly standard subcompact car except it doesn't use gas. You may be thinking that's on the downside but we would disagree. There's no risk to driving hybrids or EVs anymore. We now know they're as reliable as gas-only vehicles. And gas prices will surely rise again at some point.
Get your free used car quotes here at Car Leasing Secrets. Find the best car deals in your area the easy way!
If purchasing a used car isn't right for you but you still want a great deal, take a look at the lease offers in your city. Get free lease quotes from you local dealers. There's no obligation involved. Click here.