5 Car Seat FAQs for Drivers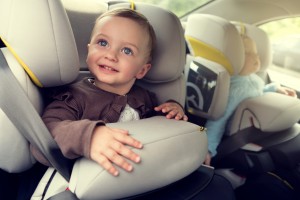 Whether you're a mom or dad to be or a baby shower invitee, we would like to prepare you for your duties regarding cars and car seats. We hope this page answers your questions.
What does "LATCH" stand for?
LATCH Stands for Lower Anchors and Tethers for Children. LATCH systems have been required in rear seats for nearly fifteen years. However, not all LATCH systems are the same. Whatever car you use to transport your kids, you need to be sure you use your tethers and anchors correctly.
That being said, some LATCH systems are easier to use than others. The IIHS tested 170 vehicles and decided the LATCH systems of the Audi Q7, Lexus RX and Toyota Prius were easiest to use. The LATCH hardware of the Ford Fiesta, Chevrolet Silverado and Infiniti Q70 were some of the most difficult to use.
What are the laws regarding car seats?
Most states mandate proper car seat usage for children under age 8. Many states also require the usage of booster seats until children are a certain weight. You should research your state's laws and be prepared to use a car seat on your child's first car ride.
How safe are children while restrained in car seats?
There is no substitute for safe driving. When you're experiencing the busy realities of parenthood, never lose your cool, especially when driving. While car seats are designed to keep children safe, they do not always prevent fatal injuries. This year, up to 200,000 car accidents involving children can be expected. Until 2011 (and, presumably, today), "motor vehicle accidents" was in the top three causes of death for children of different age groups, according to the CDC.
What kinds of car seats are available?
There are many kinds. Three basic types exist.
Forward-Facing (Baby/Infant)
These face the rear of the vehicle and are used only for children under certain weight and size limits. The limits depend upon the particular seat's specifications.
Convertible (Infant-Toddler)
These can be adjusted for use in two or three modes; for infants, for toddlers up to about 40 pounds and for children up to age 7 or up to 70 pounds. You can usually face the car seat towards the front of the car when your child reaches about 40 pounds.
Booster Seats
Children who are at least 4 years old and weigh at least 40 pounds can use these. They position the vehicle's seat belts over the child's body, in the correct formation, as opposed to having belts of their own.
What if I need a full row of car seats?
If you're super lucky (or unlucky, depending on your perspective), you may be in a situation where you need to fit car seats side by side in your vehicle, with no empty seats in between them. This isn't possible with every vehicle. Sometimes it comes down to the car seat models you have. Although, many vehicles can accomodate a full row of just about any model of car seat. Thanks to Cars.com, we know lots of examples. Click here for the list.
When you need quotes for your new car-seat-friendly vehicle, get them online. You can get exclusive discounts by requesting quotes from your local dealers on our website. Click here to begin.